Management Training Tip 1 – Communicating with impact
We communicate in many different ways, by speaking, writing, gesticulating and just through our physical appearance and presence. Whatever we are trying to communicate, chances are we want an action as the result. So, we may want someone to take a decision, form an opinion or give approval to a proposal. It might be we want them to simply be aware of something or take a specific course of action themselves. Whichever of these applies, something needs to happen as a result of our communication.
So, before we communicate, investing a bit of time and effort into some simple advance planning will produce great results. This is where the 'AIDA' tip comes in. Believe it or not the AIDA model is thought to have been devised at the turn of the 20th century by an American advertising and sales pioneer, E. St. Elmo Lewis, but it's still used today as a great way to focus on communicating with impact.
It may be easiest to think of it as steps up a pyramid: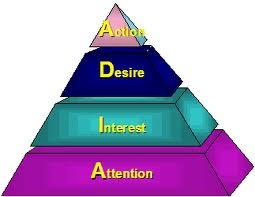 Starting at the pyramid base, we need to grab the attention of our 'audience'. The words we use, the tone and sense of urgency and importance all play a part here.
Then, step 2, to swiftly generate – and maintain – their interest in what we are communicating. When planning what we are going to communicate, think of it from the other person's perspective: why should they be interested in what we're saying?
Once we've succeeded in these first 2 steps, we need to build up the audience's desire to take the action we set at the outset through assertive communication. Showing the advantages or business case for what we're proposing can help generate this desire.
Finally, the crucial stage – ensuring our audience actually takes action! Make it easy, by describing whatever steps need to be taken and by when. Don't assume they'll do it anyway – make it a definite by clearly summarising what needs to be done now.
Click here for further details of Acuity Training's management training courses.