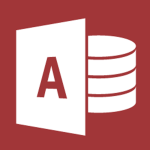 Our Microsoft Access training courses will show you how to get the most from this powerful database application. Access is a popular database programme enabling the user to manipulate data in a number of ways. Data can be analysed and sorted, specific information can be searched for, and the results can be used to produce reports, lists and more. Microsoft Access is extremely flexible and can be linked to data stored in other applications or to databases held in other programs (for example, MS SQL). Access is part of the Microsoft Office suite and so widely available. This also means that visual basic for applications (VBA) can be used to customise MS Access.
Led by highly experienced MS Access trainers with many years of experience our hands-on training courses mean that you will leave with practical experience as well as useful tips and tricks.
We run scheduled Access training courses at three levels and use Access 2016 on Windows for the training.
One-to-one or group bookings can also be arranged on dates to suit you and customised to your specific requirements. We are very happy to organise these courses anywhere in the UK. This includes running Access training courses in London, Birmingham and Manchester.
Course Approach
---
These Access training courses are focused on ensuring that we make you a faster and more relaxed Microsoft Access user. Access is a very widely used database system and for advanced IT users being a capable, comfortable Access user is a key career skill.
MS Access is a relational database management system (RDMS) which means that it stores the data in a series of tables (very similar to Excel spreadsheets) which are all related to each other. A typical but simple example of this would be a system that stores customer company details and also contact details for individuals who work at the various customer companies. The system would typically have one table holding just the details of all of the companies that are customers, and another for all of the contacts at all of the customer companies. Each customer company would have a unique identifier in the system so that each of the records for the individuals (in the contacts table) would be 'tagged' or 'related' to one of the companies in the companies table. In this way the data stored in separate tables is all related together.
Although Access can be intimidating initially it is a very user friendly system when you are comfortable with how it works. Our MS Access courses are specifically developed to get you using the system as much as possible. We give you lots of time practicing the concepts and ideas that we explain so that when you return to your office you will be a confident and much faster Access user.
A key strength of Microsoft Access is that it is a very flexible and configurable system. However, for the beginner this presents a challenge as it means that it has a very large number of menus and options, which can be confusing. By getting our delegates using the system we ensure that they leave comfortable with navigating the system and how it's menus are structured.
Uses Of Access
---
MS Access is used extensively in business for data management and storage. It is widely used to track and manage information company information so customers, contact details, order numbers and the like. It's ability to hold, manage, present and summarise very large amounts of data quickly and simply mean that it is very widely used.
In particular Access VBA allows experienced users to build customised systems optimised for their specific needs. VBA makes Access highly configurable meaning that it can be used to very quickly automate repetitive functions. A typical example of this would be generating and formatting monthly or weekly reports.

COURSE LOCATIONS
---
Our modern, air-conditioned training centres are in London and Guildford. They are very easy to get to wherever you are travelling from.
Our London training centre is in the heart of the City. It is a short walk from Blackfriars tube station and City Thameslink station.
Our Guildford training centre is very accessible from Guildford station. If you are driving, we have plenty of free parking.
We also offer onsite training across the UK. This means that we come to your offices to run the training. We do this on days that suit you and train a course that is specific to your exact needs.
Background & Overview
---
Access is the database product contained within the Microsoft Office suite of products. It is available within both Microsoft Office for Windows and also Office for Mac. However it is worth noting that Access does not offer VBA functionality within Office for Mac 2008.
The recent most used versions of MS Access are:
Access 2003:
It was the most recent version of Access to not use the ribbon system. It is becoming increasingly rare to see Access 2003 given it's age.
This update to Access (from Access 2002 and 200o) introduced new error cheching in reports and forms which allowed the controls in reports to be automatically checked. It also make backing up and restoring databases simpler and made the autocorrect function for text entries far simpler and more configurable.
Access 2007:
This version of Access introduced the ribbon interface which was a major change to its appearance. Many users struggled with the changes initially. It didn't contain any particularly material changes to the software's capabilities but did improve usability and speed. It simplified many repetitive tasks and made them more straight forward. For the more advanced users it did contain improvements to macros.
Access 2010:
Access 2010 was a refinement of Access 2007. The functional changes were evolutionary in nature and focused on speed and ease of use. The biggest change cosmetically was that it introduced the file tab to open a new area called 'Backstage View'. This area contains the controls for executing operations across entire databases, and also displays a list of recently used databases. Other significant changes were made to calculated table fields, where fields whose values are derived from other fields in the same table were now allowed, and in conditional formatting where the relative value of numeric cells can now be represented by a color gradient.
Access 2013:
Access 2013 was a further improvement on Access 2010. It was faster and simpler to use. The key improvements were to its ease of customisation. It contains a number of very useful templates which can save a lot of set up time for new databases. It contains a very good template for a CRM system which Access is frequently used to create. If you are looking to create a new CRM system which doesn't have any strange requirements then it can now let you do so very quickly indeed. The other key improvement was to its apps functionality. It has improved a number of areas, like autocomplete, and offers a standardised framework which makes navigation significantly easier. In aggregate these small changes make apps much easier to work with.
Similar Courses
---
Delegates interested in Access training often are also interested in:
Further References 
---
Further information on Microsoft Access can be found at the following websites:
Wikipedia:    Access Article
Microsoft:   Access Homepage
Also below please find some links to articles we've written on using Access:
Using Union Queries in Access and SQL