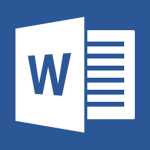 Acuity's Microsoft Word training courses are led by  professional trainerswith many years of hands-on experience, meaning that our Word course trainers bring the training to life with real-life scenarios and examples.
With Microsoft Word, the industry standard word processing application, it is possible to produce professional documents and layouts either by using a wide range of supplied templates or by starting from scratch. The user can create custom type styles and apply them to imported or entered text, and design and format complex tables.
Microsoft Word allows users to create documents of many hundreds of pages including pictures and diagrams imported from other office applications such as Visio and Microsoft Project.
We offer training at our centres in Guildford and London, One-to-one or group bookings can also be arranged on dates to suit you and customised to your specific requirements.
Many client's find it more convenient to ask us to come to their site to provide training.
COURSE APPROACH
---
These courses are focused on ensuring that we make you a faster and more relaxed Microsoft Word user. Given how widely Word is used in business today, being a comfortable and capable Word user is a key career skill for everyone.
Whether you are a beginner tackling Word for the first time, or an advanced user learning how to automate repetitive tasks using VBA, our courses are deliberately very hands-on. We believe that skills are developed through guided practice which reinforces learning and shows you how to apply what they are learning practically. Our exercises are carefully chosen to emphasise the key aspects of each lesson.
Word's key strength is that is it so configurable if you know how. However, this presents a challenge to the inexperienced user. It means that Word contains very large numbers of options, often within nested menus. It is not unusual for a user to know what they want to do with Word but not be able to find the relevant menu. Our in-class exercises get delegates working independently on Word which means that you become familiar navigating the various menus that Word contains.

COURSE LOCATIONS
---
Our modern, air-conditioned training centres are in London and Guildford. They are very easy to get to wherever you are travelling from.
Our London training centre is in the heart of the City. It is a short walk from Blackfriars tube station and City Thameslink station.
Our Guildford training centre is very accessible from Guildford station. If you are driving, we have plenty of free parking.
We also offer onsite training across the UK. This means that we come to your offices to run the training. We do this on days that suit you and train a course that is specific to your exact needs.
USES OF WORD
---
Word is the default word-processing package used in business. From simple letter writing through to complex legal documents and marketing documents,  in the hands of an experienced user it can quickly and simply produce the document that you want. The ability to program Word using VBA means that it can automate repetitive tasks saving huge amounts of time.
BACKGROUND AND OVERVIEW
---
Word is the word processing package contained within the Microsoft Office suite of products. It is available within both Microsoft Office for Windows and also Office for Mac. However it is worth noting that Word does not offer VBA functionality within Office for Mac 2008. It has been ubiquitous within the office environment since the mid 90's when it took over from Lotus Notes.
The recent most used versions of Word are:
Word 2003:
This was the last version of Word to not include the ribbon interface. It is becoming increasingly rare to see Word 2003 these days.
This update to Word (from Word 2000) introduced new Tables functionality and also allowed information to be saved and modified using the XML data format. This made Word 2003 far more compatible than previously as it made importing data from other sources far more simple.
Word 2007:
Word 2007 introduced the ribbon to the interface. This was a major change and initially many users struggled with the changes. However once users were experienced in using it they generally found it quicker and simpler to use. A number of other small changes were made which in aggregate gave Word 2007 a much improved user experience.  The auto-formatting tools were much improved making document set up quicker and simpler. It also introduced document sharing functionality allowing documents to be distributed in 'Final' version which makes them effectively read only. It also introduced the ability to output documents to PDF and XPS which helps with document control. Finally, the recovery function was much improved. This means that when the inevitable computer or Word crash comes you should be less likely to lose your work.
Word 2010:
Word 2010 was a refinement of Word 2007. The changes while meaningful were less substantial than the changes between the 2003 and 2007 versions. This version again added a number of very useful incremental changes. It introduced live word count and had a much improved spell check function. In addition it allowed users to see paste preview, which can save a lot of time when working with very large documents. The final
Word 2013:
This version is again more of a refinement and expansion of Word 2010 than a wholesale change. There are multiple small changes and improvements through the program mainly focused on the cloud and collaboration. The new functionality introduced included improved commenting, including a reply to comment function, and the ability for non-Word owners to open and read Word documents. This version of Word also works far more simply with SharePoint and OneDrive. Further improvements were made to Word's ability to handle and edit photo's and other images. Along with changes to text re-flowing in columns and around photos this gives it a much improved screen reading experience.
Similar Courses
---
Delegates interested in Microsoft Word courses are also often interested in:
Further References 
---
Further information on Word can be found at the following websites:
Wikipedia:    Word Article
Microsoft:   Word Homepage