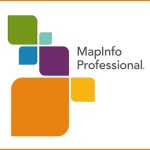 Our MapInfo training courses are led by ex-industry professionals with years of hands-on experience. This means that our courses use real-life examples and scenarios and that you will leave with plenty of practical tips and tricks as well as a through understanding of this powerful software program.
MapInfo is the original desktop mapping and geographic information system ('GIS') software program. It offers a number of ways to visualise, analyse and interpret geographic data and then to output this analysis to easily communicate the results of this work. It is often used to superimpose a set of data which contains spatial information onto a map. This allows geographic relationships within the data to be simply found and visualised, often by producing a custom map to show these relationships. MapInfo allows for SQL queries to be run to access and integrate data from databases. Examples of how MapInfo might be used are to show where a shop or other facility needs to be sited to ensure that it is within (say) 30 minutes drive of a certain size population. Similarly is can be used to identify if there is a geographic component to where a company's customers are and if so what the key factors are.
We offer training at our centres in Guildford, London, Manchester and also at our client's sites. Many client's find it more convenient to ask us to come to their site to provide training.
 We also frequently provide our clients with MapInfo training on their site. Saving the time and cost of travel and accommodation this means that the course can be customised exactly to your requirements and delivered on dates to suit you. If required we can also supply laptop computers for use during onsite training. Where possible we will use your MapInfo files during customised training to ensure that the training is as bespoke to your needs as possible.
Uses Of MapInfo
---
MapInfo is an extremely useful tool for anyone working with geographic data. It's power and flexibility mean that it is used across a large number of industries and government departments all of whom would like to either understand their geographic data better, to make accurate forecasts incorporating geographic variables or to present their geographic data better.
Typical examples of how it is used are to geographically target either physical locations (retail stores, hospitals etc), or to allow for customised maps to be produced to present information very clearly (e.g. the position of power lines, sales representatives sales territories).
Course Approach
---
These courses are focused on ensuring that we make you a fast, relaxed and accurate Mapinfo user. With a focus on developing practical skills this course gets delegates working with practice data from an early stage to build up their familiarity with both the user interface and how the menus are laid out.
Background & Overview
---
MapInfo was the first geographic information system('GIS') software available for use on a desktop PC. It was launched originally in 1986 under the name Mapping Display and Analysis System or MIDAS for short and only available to PCs running the DOS operating system. It is the most widely used and understood GIS system available.
Since then it has been extensively developed and also broadened into a while suite of products which work on different aspects of GIS. It is now available for both Windows and Mac PCs and updated software is released approximately annually, with the new release generally being made available over the summer months.
The company was purchased by Pitney Bowes in 2007.
Similar Courses
---
Delegates interested in MapInfo training often are also interested in:
Further References 
---
Further information on MapInfo can be found at the following websites:
We maintain a website which contains tips and tricks that we find delegates find particularly useful on our MapInfo training courses.
Wikipedia:    MapInfo Article
Pitney Bowes: MapInfo Home Page