How to Display the same Image in two Windows in Photoshop
Here is a quick tip on how to open your Image in two windows.
This can come in handy when you are editing a certain part of an image, instead of zooming in and out to edit and see the result you can zoom in on one window and keep the other zoomed out.
Then by switching windows you can see the changes.
All you need to do is go to the 'Window' tab and under 'Arrange' click on 'New Window for…'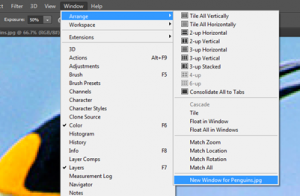 If you want to know more about Photoshop, then why not attend one of our Adobe training courses. See here for further details.