The Microsoft SharePoint templates make using SharePoint simpler than ever in your business. In addition, SharePoint site templates now serve as a starting point for site-building.
With this, you can quickly construct one whether you need a new team site for an upcoming project or a communications site for the yearly town hall meeting.
If you want a comprehensive course for any skill level, view our SharePoint courses here.
What Are Site Templates?
Site Templates are just one of the many amazing features of Microsoft SharePoint. Within the Microsoft SharePoint environment, site templates have been around for a while.
But Microsoft 365 has changed the name of Site design to Site templates. In addition, a brand-new user interface (UI) for the site templates screen and a portal called Apply a site template within all SharePoint site Settings panels have been established.
Users now have greater freedom and the option to expedite their workflow thanks to this new method. Non-technical individuals may quickly construct bespoke sites on your Microsoft SharePoint environment using the established website templates, including content creators, event managers, hiring associates, and outside suppliers.
The best part is you don't even need an IT developer to create a site template!
How Do Site Templates Work?
Site Templates are prebuilt definitions for your site, usually specified for your particular needs. You can find and use a template when creating your Site, and customise them as much as you need!
Read on below to find out how you can apply these Site Templates.
How to apply a SharePoint Site Template to an existing site
1. Create team sites or communication sites first for your business. The site's name, description, logo, privacy setting, site category, services restrictions, and permissions can all be changed at this point.
2. Select Apply a Microsoft SharePoint site template under site Settings.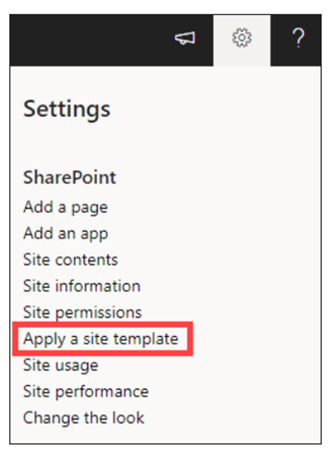 3. Choose one of the website templates to show more content. Select Use template if it suits your organizational needs.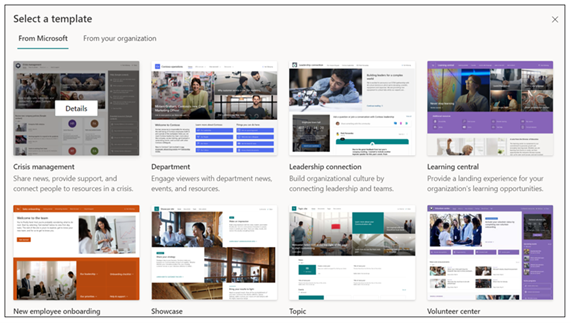 4. View your new site, go over the material there, and receive modification advice below.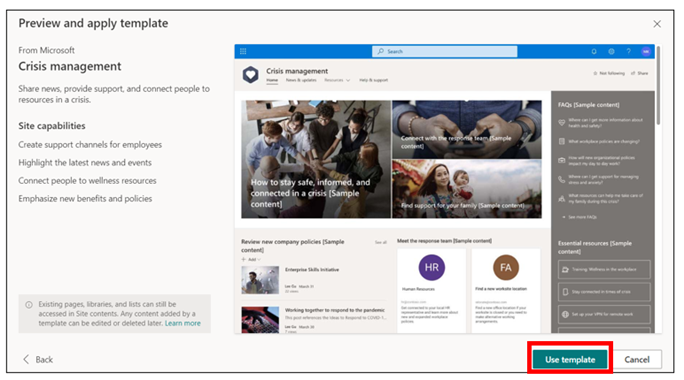 5. Republish site updates to provide visitors access to fresh material.
Using Microsoft's pre-made templates basically gives you unlimited downloads to all templates. You can use as many of them as you want for free!
How to create a new Sharepoint Site Template
1. Go to the website where you wish to base your template.
2. Next, click on the gear icon (settings logo) and select site information.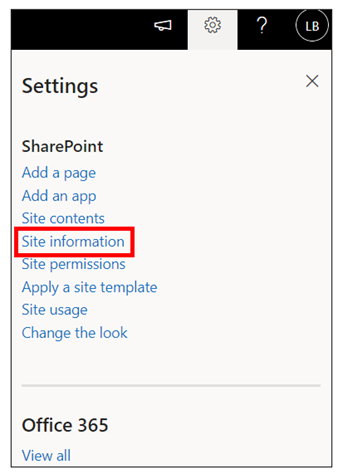 3. Now click on "View all site settings."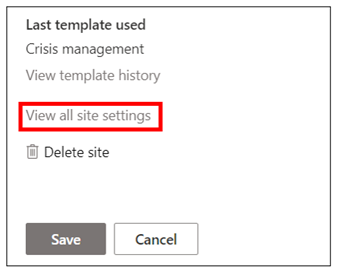 4. Finally, click the save site as a template link! If you don't see this option, check out the 2 reasons why you cannot save the site as a template, then continue.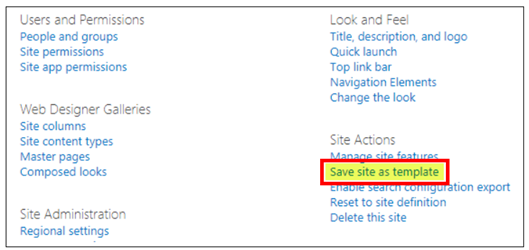 5. Give your template a File Name and Template Name on the next screen. Optionally select the Include Information checkbox to add documents and content from your website (news, events, links, etc.) to the template. Leave it unchecked if all you require is the page's structure or overall appearance. Input OK.
6. You will get a confirmation notice indicating the template has been produced on the next screen. Additionally, it will indicate where the template is kept. This will help when we build a site collection using the template. Choose OK to dismiss the message.
What Is A Site Script?
Site Scripts are another useful feature of Microsoft SharePoint. When building new team sites, SharePoint executes a set of instructions called a site script. 
Actions outline modifications to be made to the new website, such as adding a new list or implementing a theme.
A JSON script that has a list of all the actions to be applied contains the action specifications. When a script is executed, SharePoint completes all of the tasks in the specified sequence.
Using A Site Script
The Microsoft SharePoint Management Shell should be downloaded and installed. Then, install the most recent version and services of the shell after uninstalling any older versions that may already be installed. You don't need an IT Developer to create or modify scripts.
To connect to your Microsoft SharePoint tenancy, follow the steps under Connect to SharePoint PowerShell. Scripts are also used in WordPress themes and can be used to create websites.#
As seen in the following PowerShell code, create a variable and assign it the JSON that specifies the new script. Here is the most recent JSON schema file, which you may see and use as a reference: https://developer.microsoft.com/json-schemas/sp/site-design-script-actions.schema.json
Example of Microsoft SharePoint Site Script: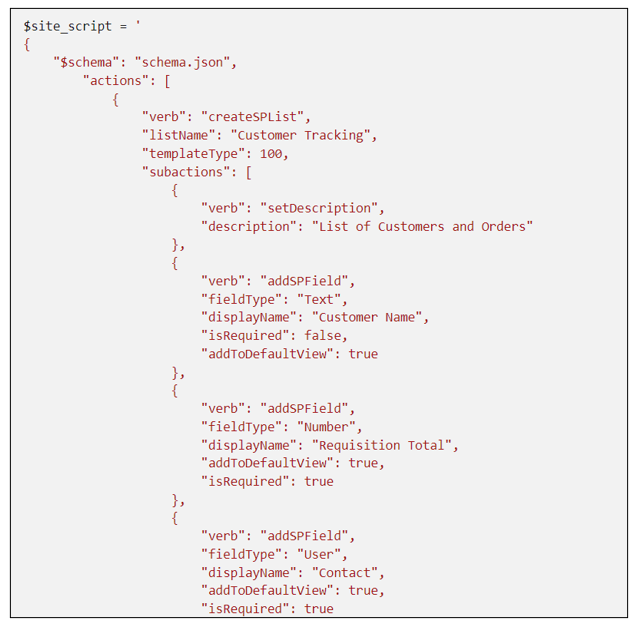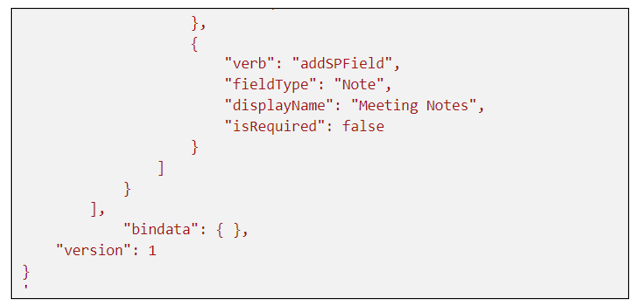 You may look at or use many examples of site scripts in the Site Scripts GitHub repository as a starting point for your own work.
Site Template Troubleshooting
If you have a Microsoft Office 365 account and need support, contact them here.
Error when saving site as template
Problem:
The following error notice appears when you attempt to save a site as a template in SharePoint, SharePoint Server 2013, 2016, or 2019.
"Sorry, there was a problem. Sorry, a template for this website cannot be created. It includes apps that are incompatible with templates: <app name, or list of applications>."
Solution:
Remove any impacted applications that are specified in the error notice to get around this problem, and then save the website as a template. After saving the site as a template, you'll need to add the app again if you wish to utilize it.
Error when saving online site as template
Problem:
Think about the following example:
You access the Solution Gallery under Microsoft 365 SharePoint Online's SiteSettings' Solutions section. Then, you modify the requirement that submitted items get content approval—choosing Yes.
The following error notice appears when you attempt to save the website as a template:
"Sorry, something went wrong. An unexpected error has occurred."
Solution:
Change the Require content clearance for submitted items setting to avoid this problem. Then save the website as a template with the option set to No. Follow these steps to accomplish this:
First, navigate to the SharePoint Online site where you saw the problem.

Site settings may be accessed by clicking the gear icon (settings logo).
Click Solutions under Web Designer Galleries.
Click on the library button, then choose Library Settings.
For versioning settings, click.
Set Require content approval for submitted items in the Content Approval section. Choose No, then click OK.
As a template, save the website.
After the template has been successfully produced, reactivate content approval on the Solution Gallery if necessary.
Error with the new navigation link?
Think about the following example:
Using the Basic Search Center template, you may establish a site collection in Microsoft 365 SharePoint Online.
You click New Navigation Link in the Site Settings after clicking the Top Link Bar. You might also try using the Site Settings' Save site as a template option.
You get the following error notice in this instance:
"Sorry, something went wrong. An unexpected error has occurred."
Site Script Troubleshooting
Problem:
You get the following error notice while attempting to open a Microsoft 365 SharePoint Server 2013 site:
"You may be trying to access this site from a secured browser on the server. Please enable scripts and reload this page."
Solution:
Activate Internet Explorer's JavaScript functionality to solve this issue. Follow these steps to accomplish this:
Go to the SharePoint Server 2013 site in Internet Explorer, press Alt to expose the menu bar, choose Tools, and then pick Internet Options.

Select Custom level under the Security tab.
Select Enable after descending to the Active scripting section.
Conclusion
Now that you know more about these Microsoft SharePoint features, you're ready to set up your own Site Template and Script! You may also record and playback your Excel activities using scripts on several workbooks and worksheets. 
In addition, if you frequently perform the same tasks, you may organize your labor into an efficient Office Script. Looking for more SharePoint tips? Find out how to Add SharePoint To File Explorer here.