Management TrainingTip 2 – Making sure the dog wags the tail!
We may all have 24 hours a day, but so often it seems like much less.  How often do we say, 'There just isn't enough time' or 'I've got just as long a "To Do" list now as I had at the start of the day and I've been working flat out!'?
How can we help ensure we have more control over our working day?
Luckily, someone's worked it out for us.  Stephen Covey, in his book, First Things First, demonstrated how to use a simple matrix to powerful effect.  It considers 2 factors: urgency and importance.  These are shown in the diagram here: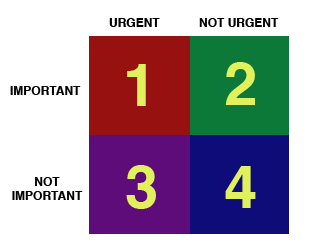 So, if a task is very urgent and very important we put in box 1, whilst another task might be neither important nor urgent, so would go into box 4 in the matrix etc.
Taking a few moments to transfer your "To Do" list onto the matrix will be time well spent.
Once you've got everything onto the chart a prioritisation will be apparent, as follows: anything in box 1 is 'DO!', box 2 = 'DELAY', box 3 are tasks to 'DELEGATE' and box 4 is the best one perhaps of all, as tasks in there are to be 'DUMPED'!
The trick here is to remember that we can often treat the urgent mistakenly as important and can rush to do it when in fact something else is more important.
So, try out this tip and make sure it's the dog that wags the tail!