You can double click on the worksheet tab name, it will then highlight in black: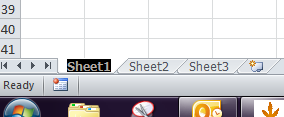 When that happens you can then overtype the name that you want it to be
The other method is to right-click the tab, a pick-list appears and you can click 'rename' on that. That will then do the same black highlight and allow you to overtype the new name in.
This is covered in our Excel Intermediate training session. If you wishe to attend, please contact us.
Related courses
This Microsoft Excel Essentials training course will introduce you to the basic skills needed […]
Read more
This intermediate Microsoft Excel training course is suitable whatever version of Excel you use […]
Read more