The Personal Touch
Here are just a few reasons why our customers say they keep coming back:
Easy booking procedure (Click Here)
Our industry experienced trainers are passionate about helping delegates achieve their full potential.
Small classes
We ensure that our programmes are relevant and up-to-date, using the latest and most effective training techniques.
Training takes place in a relaxed and highly supportive learning environment.
Proven track record with a variety of organisations, from small businesses to large government departments
Training dates of your choice, as well as scheduled dates
Courses and materials that can be tailored to meet the needs of your organisation
Our trainers together have years of experience working within commerce and industry, designing and delivering training programmes for multi-nationals, SMEs and small private firms. More importantly, they really enjoy what they do.
We train a full range of IT and personal development courses. Whether you're looking for Excel training, Assertiveness training or InDesign training we're here to help.
The latest
Microsoft Access Training – Advanced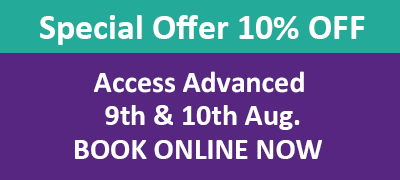 This advanced Microsoft Access training course will build on your existing skills to teach you advanced techniques for making the most of Access's functionality.
Microsoft Access is a very popular and widely used database program enabling the user to manipulate data in a wide variety of ways. Data can be analysed and sorted, specific information can be searched for, and the results can be used to produce reports, lists and more.
Read more