It's tempting to dive in and start processing invoices as soon as you've signed up for your new Xero account.
At this point, it's worth pausing for 10 minutes to make sure that you set your account up properly. Xero does a fantastic job of walking you through the basics (something we teach on our Xero training courses) but there are few extra things you need to do to make sure that you're making full use of all of Xero's tools and functions.
Let's look at the 2 things to do when you are setting up and 3 for when you're up and running.
1: Not Taking Time To Think Through Your Chart Of Accounts
Your accounts are only as smart and useful as they are set up to be. Xero can slice and dice your business information anyway that you would like it to, provided that you set it up correctly….. so it's always worth taking 10 minutes at the start to think through exactly what information you will find helpful.
Once you know this you can ensure that your Xero account is aggregating your data in the way that is most useful to you.
Your chart of accounts is simply a hierarchy that shows how different transactions will be aggregated for you. So for example, if you have a lot of property you are going to want to be able to see very easily your heating, lighting, power etc costs as they will be substantial. You would want each of these lines to show on the profit and loss account. For a business with no office, you wouldn't want to see these categories but would probably be far more interested in the details of your IT costs.
To access your Chart of Accounts you simply click Accounting – Advanced – Chart of Accounts.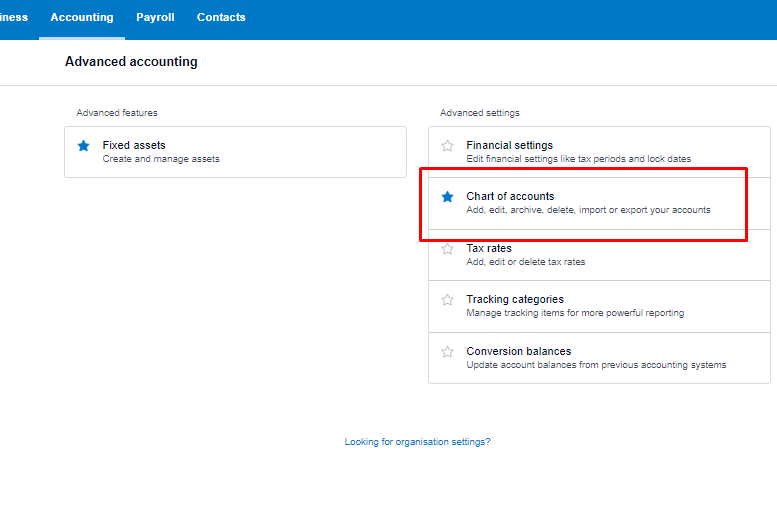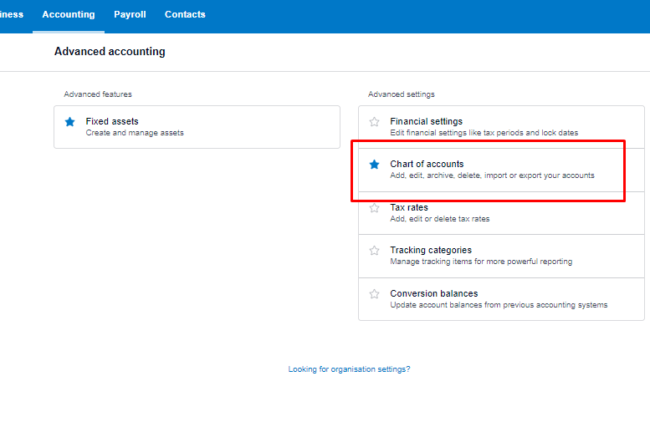 2: Not Using Xero's Invoice Reminders To Chase Invoices
Following up invoices is a huge time sink but 'the squeaky wheel gets the grease' and so you have to if you want to stay on top of your cashflow.
One of Xero's fantastic features is that it will automatically chase your invoices for you. It will email customers reminding them that they have an invoice outstanding without you doing anything.
You will find the invoice reminders function at Business – Invoice and look for the clock at the right of the tabs across the top of the screen.


Once you have clicked that it will lead you through the process. For example, you can choose to whether you want to send statements, invoices or simply reminder emails.
Now lets look at 3 things you need to do once you are up and running.
3: Lock Previous Accounting Periods
Unless you lock data in Xero it is live. That means that it can be edited by anyone with the appropriate permission.
Where you have submitted financial reports based on your Xero data (for example, tax returns) you don't want that data to be edited. If it is subsequently changed your financial records won't then reconcile with the reports that you've submitted.
To avoid any subsequent changes to data is has a 'Lock Dates' feature.
To lock a financial period go to Accounting – Advanced – Financial Settings.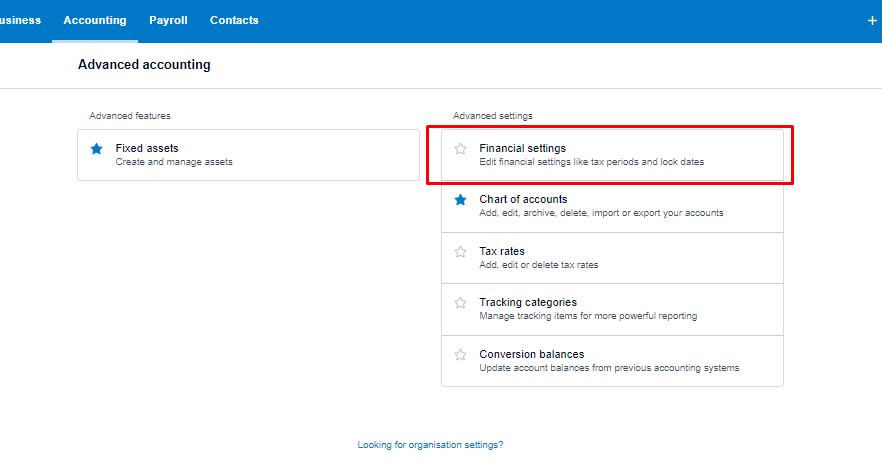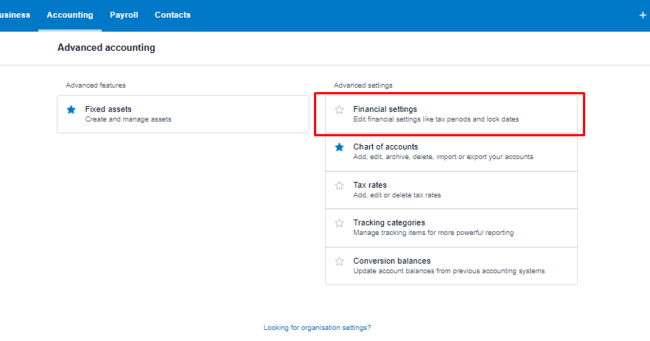 There under the Lock Dates option you will be able to enter the date before which you would like to lock transactions. Note you can also limit the people that can make changes before this date if you'd like so you could let your accountant continue to make changes but stop anyone else doing so, for example.
4: Full Bank Reconciliations
Reconciling your bank account is one of the foundations of ensuring that you have full control of your accounts.
Because Xero will match your statements with your accounts automatically many people skip reconciliations. You still have to do a reconciliation to be sure that all of your bank statement has been properly imported and allocated.
You carry out a reconciliation by clicking Accounting – Reports. Then in the Accounting section look for the 'Bank Reconciliation Summary' report this will allow you to compare your bank statement on the specified date with the balance that Xero is showing.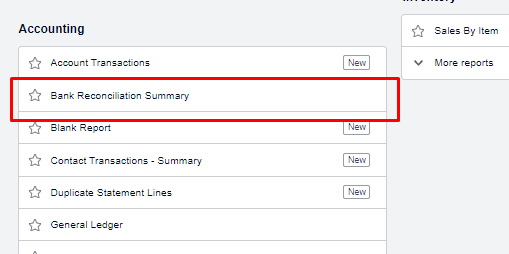 A lot of people think they can skip this step. This is a crucial process and still needs to be done with Xero to make 100% sure that Xero has imported your bank statement lines properly.
You can do this by running the Reconciliation Report in Xero under Accounts / Bank Accounts / Management Accounts / Reconciliation Report and comparing it with your bank statements on a particular date.
If you find that you have a difference between your Xero balance and your bank statement, then you are missing some transactions that will need to be imported or have some duplicate transactions that will need to be removed.
5. Xero Apps
Xero interfaces seamlessly with hundreds of apps.
Depending on what you use Xero for the apps that are best for you will vary but do take time to take a look. They can save you a huge amount of time.
For our list of top Xero apps see this post – Top Xero Apps.