How to Hide and Delete Columns in Excel
This is a useful tip on how to Hide or Delete a Column, so you don't have to work around it.
First you need to select the column you want to hide by clicking on the letter of the column.
Then you need to right click in the blue highlight area.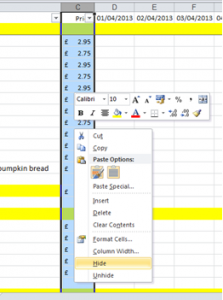 To hide the column click 'Hide', here you can also delete the column completely, to do this just click 'Delete'
To hide multiple columns all you need to do is drag the blue highlighted area over the other columns you want to hide or delete.
To unhide a column, just select the letters that surround the hidden column, right click in the blue highlighted area and click 'Unhide'
If you would like to learn more about Excel and how to make the most of its tools we can show you on one of our Excel courses