Excel KeyTips
Navigate Excel 2010 without a mouse, this is possible by using KeyTip badges. To find these press the 'Alt' key.
You then hit the Alt key and the corresponding letter of what you want to do.

I chose 'Alt' and M which will take me to the formulas tab, if I hit the 'Alt' key again it will show more choices

To use the Autosum function I hit 'Alt' and U, this will give me further choices, but you have the idea now!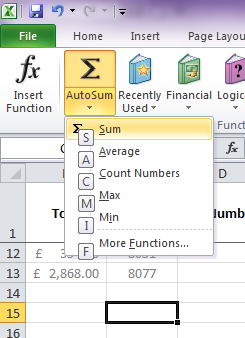 One thing to watch out for. Once you have inserted what you want using this method, when you hit the 'Alt' key again you will have to start off by selecting the tab you want again, it won't automatically give you the choices of the tab that you are on.
To learn more why not attend our Excel Essentials training.