Customise the Quick Access Toolbar in Excel
You can find the Quick Access Toolbar is in the top left-hand corner of the Excel window. The default customisation contains the buttons to save your work and undo or redo/repeat the last action. Here you can customise which buttons you want.
All you need to do is go to 'File' followed by 'Options' then click on 'Quick Access Toolbar' option. In the left-hand column you can select the tools you want to add just by selecting the tool you want and click 'Add'. You can change the available commands using the dropdown list labelled 'Choose commands from'. Then click 'OK' to save your changes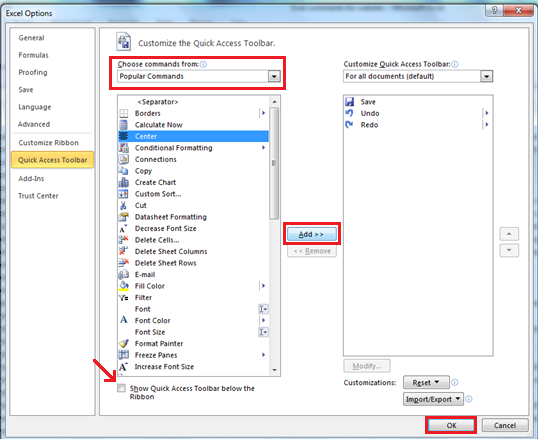 Once you have customised your 'Quick Access Toolbar' you can also decide whether you want it to be displayed at the top or bottom of the ribbon.
So if you want your customised 'Quick Access Toolbar' a little bit closer to the page all you need to do is check the 'Show Quick Access Toolbar below the Ribbon' section in the 'Customise Quick Access Toolbar' dialog.
If you would like to learn more about Excel and how to make the most of its tools we can show you on one of our Excel courses