Microsoft Excel: A Guide To Controlling Your Page Layout
Page Layout is used to describe the group of commands that control how a spreadsheet will appear when printed.This guide will go over the best options to keep control of your Excel Document.
This well help you make your Excel pages more readable, more eye-grabbing and easier to present.
These types of print and paper handling tasks are covered in our Excel training in London and Guildford.

Margins -Built-In
There is a choice of three built-in margin settings: Normal, narrow and wide. To get to Normal:
1) Choose page layout
2) Hit the Margins drop down menu
3) Click the Normal Margins option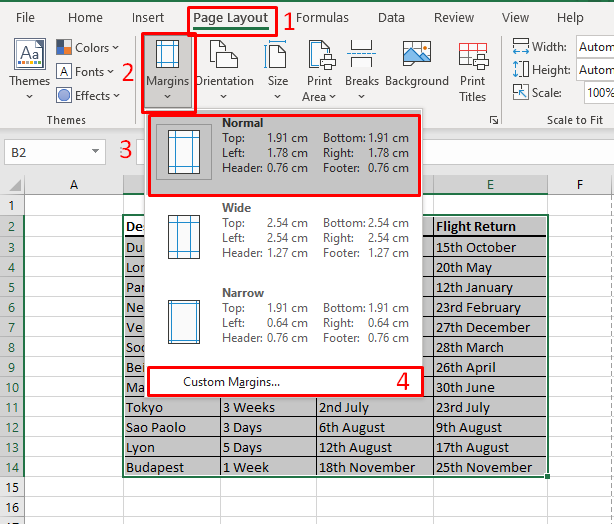 Setting Custom Margins
If you take a look at the picture above, you will see that right at the bottom of the drop down list is a 'Custom Margins' choice (4)
4) The Custom Margins button will produce the Page Setup Dialog Box, with the Margins tab highlighted.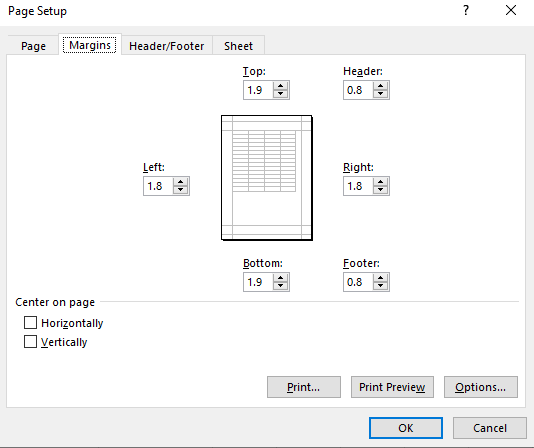 Here you are able to adjust the margins to your exact requirements. You are also able to centre your image on the page here, either horizontally, vertically or both.
Another great way to control your page layout in Microsoft Excel is by using Drop Down Menus. View our comprehensive guide to Drop Down menus here.
Changing Margins By Dragging
To do this you need to go to the 'Page 'Layout' view. There is a tab called Page Layout we have been using so far, but we do not want this. Please see picture below for how to get to the correct place: View/Page layout.
First hit the View Tab
Then hit the Page Layout button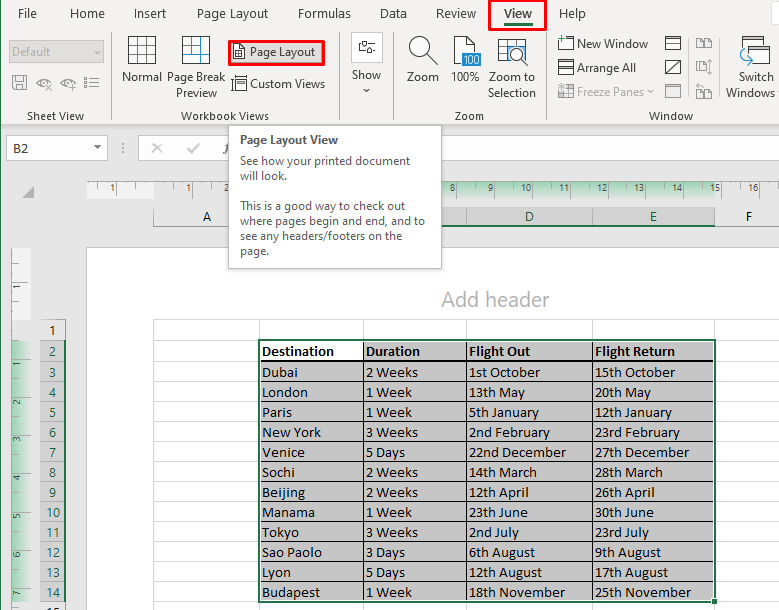 With your mouse you can then grab the margins and move them around. When you have got a hold of it, you will see a thin dotted line, wherever you let o of it, that is where the new margin will be. If you make a mistake, just hit CTRL-Z to undo it.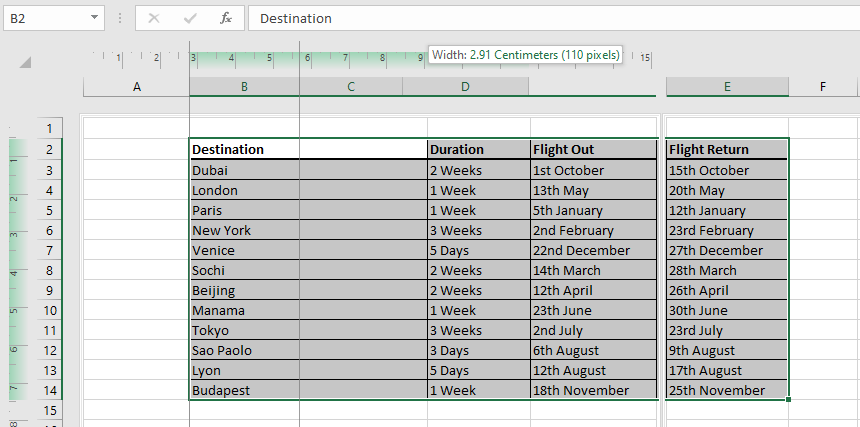 Centring On a Page, Paper Orientation & Setting Paper Size
By default Excel will print in the top left hand corner of the page. If you want it to print elsewhere you need to tell it to do so.
To centre it on the page we need to product the Page Setup dialog box again as before.
This will open the box you see in the picture below. You will see on the lower left-hand side the options to centre horizontally and / or vertically.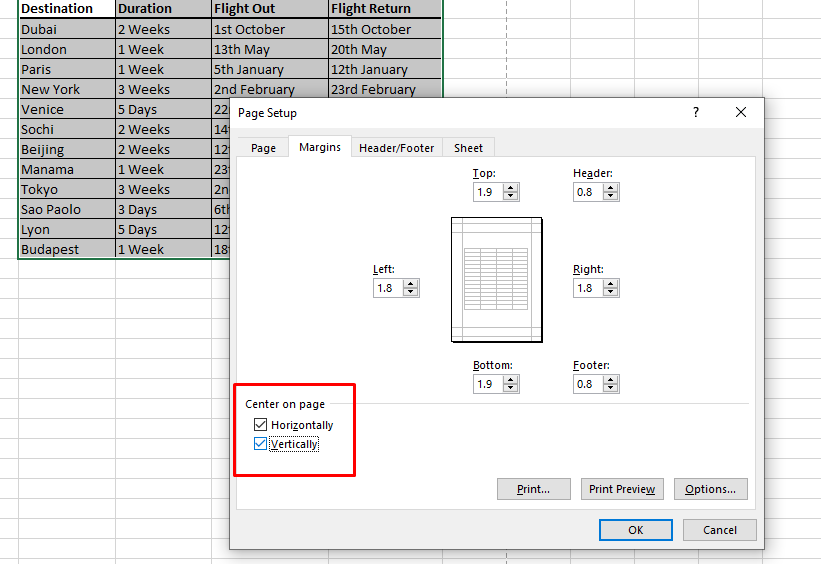 When you have centred both, it will look similar to below.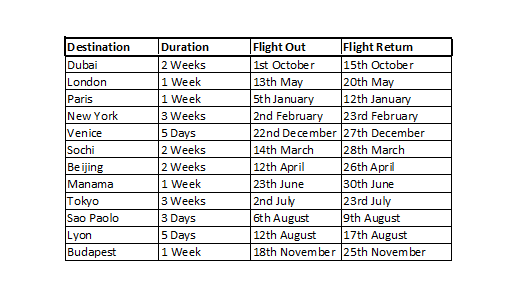 You will also see in the top picture in this section you have the opportunity to decide which way round you want your paper.
There are a wide variety of standard paper sizes to choose from when you click the 'Size' button, and you also have the opportunity to set your own custom size.
Setting The Print Area
The default print area for Excel is ALL of the data. Unless you have set up your pages this can make for a very confusing pile of paper, especially if you have lots of columns.
Another way is to set the print area. To do this highlight the data you want to print, click on the page layout, print area, set print area.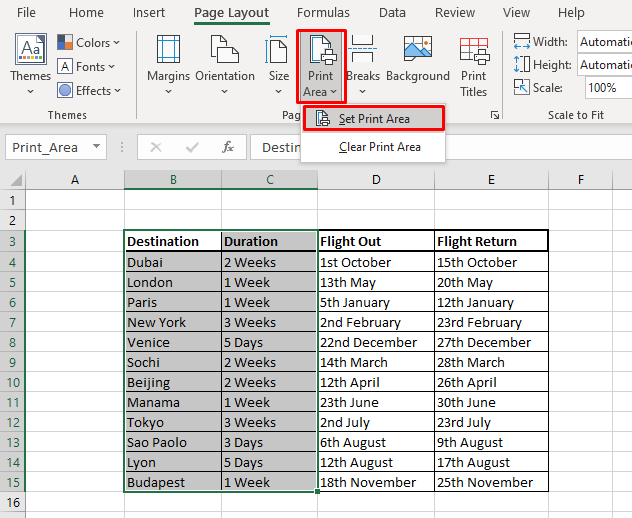 The area will then have a thinner line around it. Once this is set the data can be filtered, sorted. Ideal if you want to print a specific column of your data, but wanted to keep all the other data.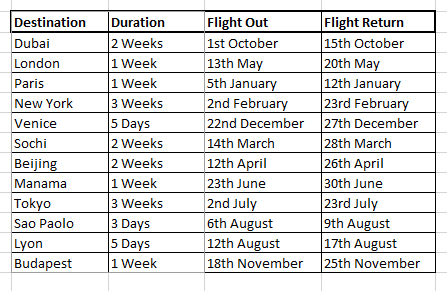 To clear the print area, see the 1st picture in this section and you will see where to do this. It is right next to the command to set the print area. Here is a preview of the print with the selection shown.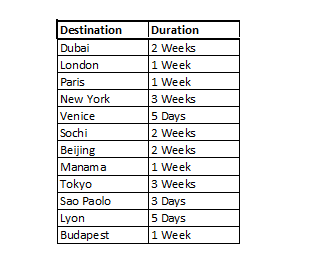 For more ways to show your information in Excel clearly, read our guide on Creating Flowcharts In Excel here!
Inserting / Removing Page Breaks
Excel will create it's own page breaks, based on the size paper you have selected. However you can choose to insert your own.
For this I have selected the line of data beginning with Sochi.
To get there:
Select tab page layout
Hit the Breaks drop down
Click Insert Page Break
You can see beneath the insert choice there is a remove Page Break and reset all Page Breaks choice too.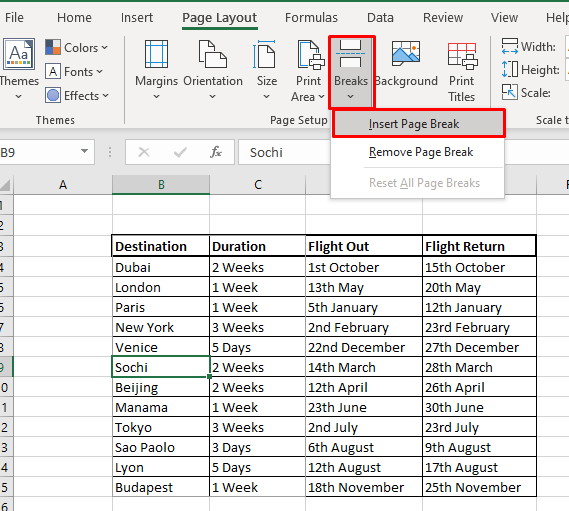 If you wish to see an overview of the breaks navigate to view/ page break preview. From here you are able to drag the thick blue lines with your mouse to reset the page breaks.
Here is a preview of the print on each page with the page break.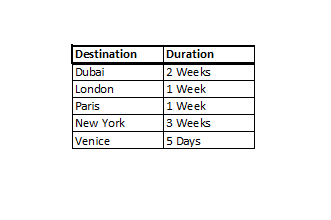 Setting a Background
The background is the area behind any data or charts that you add to a worksheet and is white by default. If you fancy a change you can insert graphics/ photographs / company logo pictures into the background. They are inserted at their default size and cannot be adjusted once they have been inserted. If you wish them to be more transparent you will need to have them ready like that before inserting.
To insert or delete a background:
Go to Page Layout
Click background in the page setup group.

Setting Rows as Repeating Print Titles
When printing long spreadsheets Excel will only print column headings on the 1st page by default.
If you have a long spreadsheet, trying to remember what all of the column headings are can be quite confusing.
To print them on every sheet do the following:
Go to Page Layout again
Click Print Titles

Excel will auomatically put row 1 in this section. However you can adjust it any way you like – here I have chosen the top line of my data.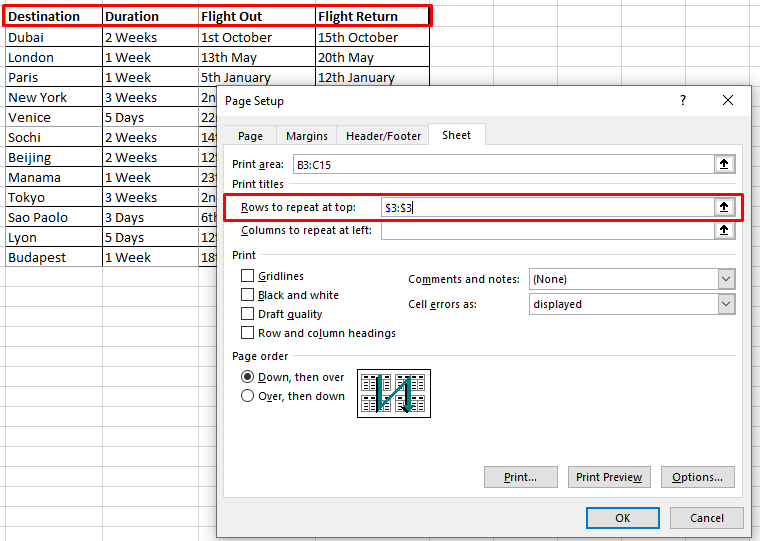 Printing Gridlines & Headings
Gridlines make reading and making sense of a large amount of data far easier. They show on screen by default but are not always automatically printed.
Below you can see that if you navigate to Page Layout / Sheet Options you can choose whether to view and print your gridlines. Next to it you will also see you have the same choices with headings. Headings are the letters across the tops of the columns and the numbers down he left hand side of the rows.

From the picture above you can see that you are also able to scale your spreadsheet by a percentage to fit your paper. You can see the changes on your screen as the dotted lines will move each time you change the scale.
Other Excel Articles
Creating A Drop Down List In Excel