How to Insert a Table in PowerPoint
Here is a quick tip on how to Insert a table in PowerPoint.
Just go to the 'Insert' Section and click on 'Table' here you can choose how many Columns and Rows you want for your table by highlighting the right amount of boxes.

Here you can also insert an Excel Spreadsheet, by clicking on 'Excel Spreadsheet' in the 'Table' section, it will open up an Excel Spreadsheet on your slide with the Excel tools.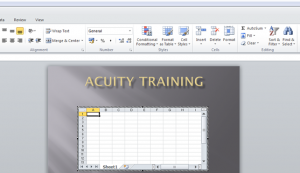 If you would like to learn more about PowerPoint, take a look at our PowerPoint Training Courses.