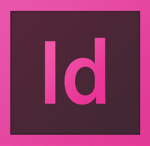 Our Adobe InDesign training courses will show you how to make the most of Adobe's flagship page layout programme.
Giving you complete flexibility to build and design engaging document layouts InDesign incorporates a wide range of tools and type controls that are not available in any other desktop application.
It can be used to create any kind of page-related publication whether it is destined for simple in-house duplication, complex, high-fidelity offset printing or online distribution. It also now allows you to integrate other media (eg video and audio) into your document for people viewing your document on an iPad or computer.
InDesign also contains a range of sophisticated drawing tools normally only found in illustration packages.
We offer training at our centres in Guildford, London, Manchester and also at our client's sites. Many client's find it more convenient to ask us to come to their site to provide training.
InDesign Course Approach
---
Everything in our InDesign training courses is aimed at making you a faster and more relaxed InDesign user. Our courses are deliberately hands-on including lots of practical exercises to ensure that you spend plenty of time actually working with InDesign. We believe that real applicable software skills can only be developed practically. Our exercises are carefully chosen to emphasise the most important aspects of each lesson.
Adobe InDesign is a very large software package and to the new user it can be a little disorientating. It can often be very frustrating for a new user, as although they know that the software has a function that they need it is not easy to find it. The use of multiple exercises and examples ensures that our delegates leave very familiar with the InDesign interface. This means that they are ready to apply their skills as soon as they get back to the office.
Locations
---
Our main training centre is in Guildford .
We also provide Adobe InDesign training at classrooms in London, Reading and Basingstoke on request.
We are also very happy to provide InDesign training at your premises.
Uses Of Adobe InDesign
---
Adobe InDesign is the standard desktop publishing tool used by professionals. It is a desktop publishing tool that allows the rapid creation of professional leaflets, posters or booklets. More recent updates also allow it to be used to rapidly convert content to be tablet friendly as well. It can also be used to export content to other digital devices as it supports XML and mark up.
It is part of the Adobe suite of products and so works particularly well with other products in that family of products. So images produced in Photoshop can be very quickly and simply inserted into leaflets produced in InDesign. Similarly illustrations produced in Illustrator can be used very easily.
Background & Overview
---
InDesign has a standard Adobe interface. It was originally introduced as a replacement to PageMaker, Adobe's previous generation of desktop publishing software in the late 90's. Since then it has been very rapidly developed to offer the capabilities that it has today.
Similar Training Courses
---
Delegates interested in InDesign training are often also interested in:
Further References 
---
Further information on InDesign can be found at the following websites:
Wikipedia:               InDesign Article
Adobe InDesign:    InDesign Homepage