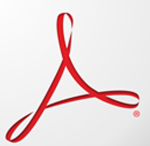 Our Authorised Adobe Acrobat training course will ensure that you can make maximum of portable document format (PDF) files. Once converted to PDF, documents can be viewed by anyone with all their original layout, pagination and graphic content intact. Because of their extremely compact file size, PDF documents constitute an ideal way of distributing documents over the web or via email.
Adobe Acrobat PDFs are also increasingly being used as a highly efficient method of delivering publications to prepress agencies.
We run Acrobat training courses at our training centre in Guildford. One-to-one or group bookings can also be arranged on dates to suit you and customised to your specific requirements.
We offer training at our centres in Guildford, London, Manchester and also at our client's sites. Many client's find it more convenient to ask us to come to their site to provide training.
Course Approach
---
Attending this course will make sure you go from a complete beginner to a more confident Acrobat user. Acrobat can be used on both Mac and Windows and is often considered the best PDF editing tool.
Our trainers will ensure that you get lots of practice on the software, making sure that you are a far faster and more confident Acrobat user when you leave. We will also ensure that you understand how Acrobat works with other Adobe suite programs like Photoshop and InDesign. We never have more than 8 people in a class to ensure that you get plenty of time to ask questions as the course progresses. 

COURSE LOCATIONS
---
Our modern, air-conditioned training centres are in London and Guildford. They are very easy to get to wherever you are travelling from.
Our London training centre is in the heart of the City. It is a short walk from Blackfriars tube station and City Thameslink station.
Our Guildford training centre is very accessible from Guildford station. If you are driving, we have plenty of free parking.
We also offer onsite training across the UK. This means that we come to your offices to run the training. We do this on days that suit you and train a course that is specific to your exact needs.
Uses Of Acrobat
---
Adobe Acrobat is used to view and edit PDF documents. This can be a very handy piece of software because it means you can go into a PDF document and edit it without having to go back to the original and then have to save it again as a PDF. 
Background & Overview
---
Acrobat was first released in 1993. At this point Acrobat was the parent name for a couple of different tools which came with Adobe package (for example Acrobat Reader and Acrobat Distiller). More recently it has become a stand alone product.
Acrobat 8
The main difference between Acrobat 7 and Acrobat 8 was that 8 had a more menu driven user interface,  including the use of task buttons. This new menu layout was a big change and has made navigation in Acrobat a lot easier. Another feature that was added was the ability to be able to save a PDF file as a Microsoft Word (.doc) without losing the layout of the document.
Acrobat 9
This version introduced the ability to save PDF's as Microsoft Word files without losing the layout. This version also included Form Tracker. This allows you to track forms that you send out so you can see who has completed them and who hasn't and so needs chasing up.
Acrobat X
This version added many useful web features. So for example you can now preview live web content before you have finished it or saved it. Usefully it also allows you to save all or part of your document as .doc, .docx, .xls, .xlsx file types.
SIMILAR COURSES
---
Delegates interested in this course are also often interested in:
Adobe Photoshop Training
FURTHER REFERENCES
---
Wikipedia:      Adobe Acrobat Page
Adobe:             Adobe Acrobat Homepage