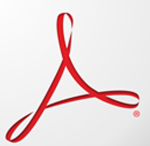 Our Adobe Acrobat training course will ensure that you can make maximum of portable document format (PDF) files. Once converted to PDF, documents can be viewed by anyone with all their original layout, pagination and graphic content intact. Because of their extremely compact file size, PDF documents constitute an ideal way of distributing documents over the web or via email.
Adobe Acrobat PDFs are also increasingly being used as a highly efficient method of delivering publications to prepress agencies.
We run Acrobat training courses at our training centre in Guildford. One-to-one or group bookings can also be arranged on dates to suit you and customised to your specific requirements.
We offer training at our centres in Guildford, London, Manchester and also at our client's sites. Many client's find it more convenient to ask us to come to their site to provide training.