How to use Excel's Camera Tool
The Camera tool is one of the useful and hidden features in Excel. You select an area in your workbook and the Camera tool takes a snapshot of the area you selected. The snapshot will update every time you change data.
First you need to add the Camera Tool to your Quick Access Toolbar.
Right click on the Quick Access Toolbar and select 'Customize Quick Access Toolbar'
In the 'Choose Commands from:' drop down list select 'All Command' then scroll down the 'C' for Camera. Then click 'Add' to add it to your Quick Access Toolbar.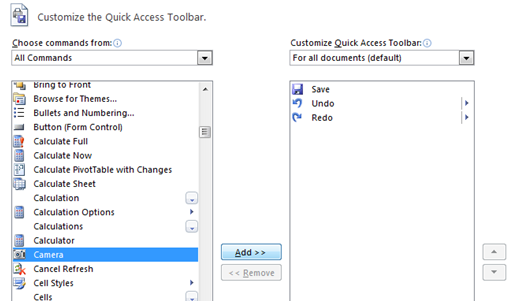 Now here is how to use the Camera Tool:
First you need to select the cells that you want displayed in your snapshot.
Then click on the Camera Tool in your Quick Access Toolbar, then select where you want your snapshot to be placed.
You can re-size the snapshot by using the re-sizing handles or if you right click the snapshot you can use the formatting options to personalise it.
If you want to learn more about Excel and its Tools, then attend one of our Excel Training Courses.