How to hide a Slide in PowerPoint
Here is a quick tip on how to hide a slide from your slideshow in PowerPoint
First you need to select the slide you wish to hide.
Then click on the 'Slide Show' tab, then under the 'Set Up' options click on 'Hide Slide'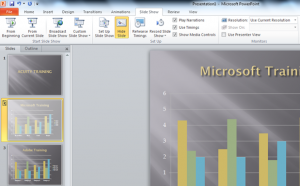 To Unhide the Slide just Click the 'Hide Slide' Button again.
If you want to learn more about PowerPoint, then attend one of our PowerPoint Training Courses.