How to Follow Up an email in Outlook
Here is a quick tip on how to flag an email that you want to follow up.
All you need to do is select the email you want to follow up.
Make sure you are in the 'Home' tab and go to 'Follow Up' under the 'Tags' section.
Here you can choose whether when you want to follow up on the email, either the same day or maybe next week. Or you can customise the follow up by selecting the 'Custom' Flag.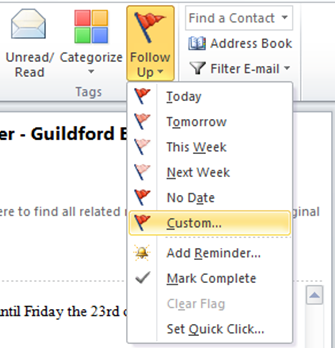 In the dialog box you can select the start date you want the follow up to be and even a due date.
You can also set a reminder for the follow up!
If you want to learn more about Outlook, thena take a look at our Outlook Training Courses.