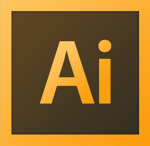 Our Authorised Adobe Illustrator training courses will show you how to use this industry standard illustration software. Illustrator provides a wide range of sophisticated drawing tools and special effects.
With only a basic knowledge of the software it is possible to design things that could only have been dreamed about a short time before.
Easy and intuitive to learn, Illustrator will inspire your imagination and your finished work can be exported into Photoshop or a page-layout programme, or printed directly from Illustrator. Offering flexible colour controls, and professional type controls, Illustrator will let you  capture your ideas.
Our Adobe training courses are led by ex-industry professionals with years of hands-on experience. This means that our courses use real-life examples and scenarios.
Our scheduled training courses are delivered in our comfortable, air conditioned training centre in the Surrey Technology Centre in Guildford. We also frequently provide our clients with training on their site.
See What You Learn On Our Illustrator Introduction / Intermediate Course
---

COURSE LOCATIONS
---
Our modern, air-conditioned training centres are in London and Guildford. They are very easy to get to wherever you are travelling from.
Our London training centre is in the heart of the City. It is a short walk from Blackfriars tube station and City Thameslink station.
Our Guildford training centre is very accessible from Guildford station. If you are driving, we have plenty of free parking.
We also offer onsite training across the UK. This means that we come to your offices to run the training. We do this on days that suit you and train a course that is specific to your exact needs.
Why Book With Acuity?
---
Because we care and it shows.
Feefo recently awarded us their gold standard award for outstanding customer service for the 4th year in a row.
We believe that people learn best when they are relaxed and having fun so that's exactly what we aim for.
Worried about anything or not quite sure. Give us a call, we're here to help.
Course Approach
---
Our courses are focused on making you a faster and more knowledgable Illustrator user. They are deliberately hands-on, and include lots of practical exercises. This ensures that you spend lots of time actually working with Illustrator. We believe that real, useful skills can only be developed practically. Our exercises are carefully chosen to emphasise the most important aspects of each lesson.
Adobe Illustrator is a very large software package. It can often be very frustrating for a new user, as although they know that the software has a function that they need it is not easy to find it. The use of multiple exercises and examples during our courses ensures that delegates leave very familiar with the Adobe interface. This means that they are ready to apply their skills as soon as they get back to the office.
Uses Of Adobe Illustrator
---
At heart Illustrator is a piece of drawing software. It is used by graphic designers and artists to create illustrations, diagrams, logos and infographics amongst other things. It is the industry standard for this type of work.
The images that are produced by Illustrator are vector images rather than bitmap images. This means that they can be scaled without loss of resolution.
As it is part of the Adobe suite images produced in Illustrator will work seamlessly if imported into InDesign or Photoshop. While Illustrator is the best piece of software for creating images from scratch, editing them once created is often far more easily done in Photoshop.
Background
---
The original version of Illustrator was released by Apple Mac in 1986. It was the commercially available version of Apple's internal font software. It is now on version 17 and available for both Mac and Windows computers. Licences are available both as part of the Adobe Creative Cloud and indivually just for Illustrator.
Similar Courses
---
Delegates interest in Illustrator training courses are often also interesting in:
Further References
---
Wikipedia:      Illustrator Article
Adobe:             Illustrator Homepage